Version 1.3.0: the keep in touch release
Posted on Sat 15 December 2018 • 3 min read
A new release in plenty of time before Christmas!
Today we released version 1.3 of LFG, which is a focused on both convenience for users as well as enhancing safety. While the existing feature set worked well within given communities there was still another issue to overcome and that was how to coordinate between game sessions. While the player calendar helped to remind players of scheduled sessions any other coordination between players and/or GM depended on other means of communication.
We knew we needed to make that easier, but we also didn't like the idea of exposing any external contact info to other users without explicit consent, and we certainly didn't want to have to pick which mode we would support. With that in mind, we conducted a survey of our current users and other gaming communities.
What we learned
Without a doubt, the most popular way for people to keep in touch between games were team chat apps like Discord and Slack, although some form of in-app messaging came in a respectable second, with email, the original social network coming in third, and social media coming right after.
When asked what factored into the decision on which method to use, the clear winner was privacy, followed by ubiquity.
LFG

: Now with private messages

In response to those findings, we've implemented a messaging system into the site. Now it is possible to send private and/or group messages with the people you are connected with. This way, users can plan their games without having to share their personal contact info. While you'll certainly use another service for your real-time play, this enables each user the opportunity to share only a disposable account for the context of playing, and keeping other interactions through the narrow scope of their LFG connections.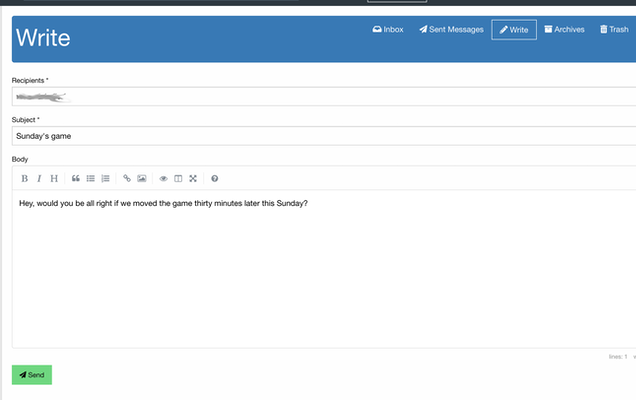 You will always receive in-app notifications of new messages, but you can also opt-in to have copies of them emailed to you. As always, having notifications and/or messages sent to your email requires your explicit consent.
How private messages work
The ability to send a message always requires two members to have a shared connection. 1 Unless someone shares the same community as you, belongs to the same game as you, or is someone you have in your friends list, they can't send you a message. This is true even if you've opted to make your profile public. If any of those above factors changes, the message channel is no longer available to them.
The messaging rules also take into account any users whom you have blocked, allowing granular control of who can message you.
Keeping the messages safe
If you receive a message from someone in violation of our Code of Conduct, which includes things like spam, harassment, or hate speech, there are tools within your message viewer allowing you to report these behaviors to our admins. You will receive notifications of admin responses. We take these issues very seriously. If an admin determines that the message violated the CoC, they will take one of four actions:
They will issue a warning to the offender.
They will silence the offender, preventing them from sending messages to anyone for specified term.
They will permanently silence the offender.
They will terminate the offender's account and suspend them from the site permanently.
Note that while these actions can be sequential, in serious cases we will escalate directly to silencing and/or suspension.
Remember, we love you.
We hope that these features will make it even easier for users to find games and get them started. Feedback is welcomed and we look forward to helping you get your next campaign started!
---
This does NOT apply to friends-of-friends. That model is a virus. ↩