Support for side sessions and instant invites
Posted on Fri 23 November 2018 • 3 min read
Big release this week designed around making things easier for campaign management.
New Features
Side sessions
LFG typically schedules game sessions according to your game's recurrence pattern, e.g. every other week or similar, and then the GM has the option of rescheduling and/or cancelling those sessions to account for the inevitable group scheduling conflicts that arise. This is fine for the majority of game sessions, but it's not unusual for some campaigns to end up having additional side sessions with either the whole group or only a subset of players.
Good examples of this are when the party is split up and the GM wants to handle the two groups separately, or when the whole group is super excited and agree to do an extra session.1 In addition, some RPGs like Invisible Sun explicitly call for side sessions with individual players. And of course, there are some cases where campaign scheduling is so sporadic, it's almost impossible to plan on a recurring schedule, and each one has to be scheduled individually.
LFG now supports this use case through ad hoc sessions. GMs can now create and schedule sessions on the fly that are treated as distinct from the overall schedule. Just like normal sessions, you can specify the players that you are planning to be there, and the session event will only propagate to the calendars of those players. This introduces a flexible model for managing those extra and/or erratic sessions that are almost certain to crop up during a long-term campaign.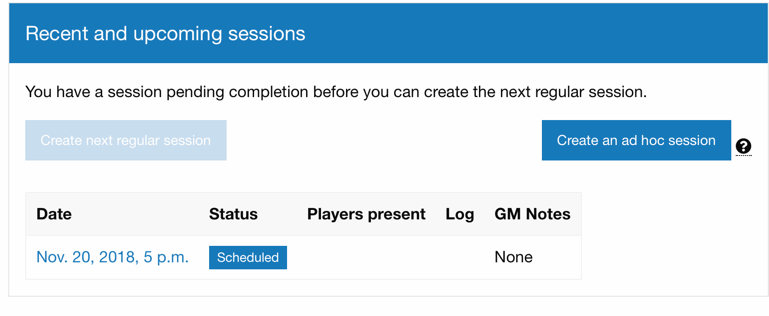 Instant invites
Profiles, communities, and games in LFG are private by default. As a result, if a user wants to join your game or private community, they first need to apply. This is not ideal when you're trying to port over an existing community, which is why LFG is capable of syncing with Discord. But what if you have friends that aren't on Discord, and want them to be able to join without the extra steps?
The problem is exacerbated if you want to invite a friend to your game. Let's say you have set your game as unlisted so that no one who isn't a member can find it without the direct link. Easy enough, you can provide the link so that they can see the details and choose to apply, which is fine for most games that are just starting out. However, what if you have an existing campaign that you want to put into LFG to take advantage of the calendaring, player management, and adventure log features? Having your existing players apply is an unnecessary step, which means they're less likely to get it done.
Now you can bypass these application processes using instant invites. Instant invites are time-dependent, one-use links that allow another user to instantly join your game and community. Invites expire after 30 days, and once they have been accepted, that invite link is deactivated.

For games, only the GM can create and manage invites, but for communities you can set the minimum community role required in order to create new invites, which defaults to community admins only. Users who create an invite can always manage their own, but admins can also view and manage all invites that have been generated by the community.
This helps get your players and friends into LFG quickly so that you can immediately begin taking advantage of both the GM and player-focused campaign management tools.
Bug Fixes
Fixed several small typos in the community screens.
Added unique identifiers for each markdown editor so that the autosave would not populate stale data.
Improved browser support for Safari.